My wife's college boy lover called and told her he was nearby and would be there in 30 minutes to fuck her. It was about 8:15 AM and I was having my first cup of coffee. My wife immediately told me to get ready to leave for an hour and a half. She had a list of items for me to take care while she was getting fucked. The first thing I did was go to the bedroom to set up her computer to record the action. She has a desk in the corner with her desktop and a web cam. I move the monitor back against the wall and put some speakers in front of it to make it look like it doesn't work and then I put a laptop on her desk.
She's already told her boy-toy that the computer's broken so he pays no attention to it anymore. I turn on Windows Movie Maker and set up the webcam to record. I will start it when I get ready to leave the house. My wife is just out of the shower, putting on her makeup and sexy lingerie. I have a massive hard-on and am turned on to no end knowing she is going to get fucked in just a few minutes.
My wife is very happy now that she's anticipating her fuck. She's not one that treats me badly or puts me down for being a cuckold. She loves the attention she gets from other men and loves the fact that I like to share her. But she is ready for me to leave, she does not want to take the chance of me running into the lover. He doesn't know that I know and he doesn't know that I record their sex every time they get together. I start the video recording and leave. As I am driving out, I pass the guy. He isn't looking at me, not that he would know me anyway. He is an ex-military guy in great shape, tall and muscular with a hefty 7.5 inch cock. I know that as soon as he gets inside my apartment he will be out of his clothes and have his cock in one of my wife's holes straight away. That's what she likes, a man with a single purpose. He's going to be there for a little over an hour and he will be fucking her the entire time. By the time I've picked up a spot of breakfast at McDonalds, I know he is pounding the hell out of her.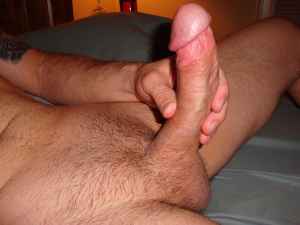 My wife likes men with large cocks. She is one of the few women that I have known that have intense vaginal orgasms.average but exceptionally thick and, lucky for me, she does like the stretched feeling…