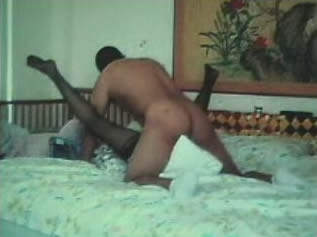 I videotaped my wife and her Latin lover using a computer in our bedroom. I used Skype to call my remote computer and I recorded the video made by the webcam. I was hiding in our spare bedroom and her lover had no clue I was there. I couldn't risk recording the sound as he would have heard it. When the Skype call showed on my computer I recorded it using my Mini DV camcorder. So the video is recorded directly from the computer screen. This guy is the jackhammer. He fucked my wife the two times I recorded here and another time I wasn't able to get a camera set up. The third and last time he fucked her she asked him for a ride to a place that was on his way to work. When he came to pick her up, he came in and, while she was fully dressed and ready to go, bent her over the kitchen table, pulled her panties aside, and fucked her without a condom. I was in the other room waiting for them to leave when I heard the sounds of her getting fucked. That was extremely erotic and I immediately started to jack my cock. Luckily my wife makes a lot of noise when she is getting fucked or I might have walked in on them thinking they had already left!
The video above is the very first time he came over and fucked my wife. He was a good lay for her and he was one of the first men she ever picked to fuck. Up until then, I had always found the men that fucked her. He came pretty fast but managed to give her a decent fuck. I love the way my wife spreads those legs and points her toes when she is getting off. When she starts to cum she likes to make her pussy as accessible as possible.
This is the Latin guy's second visit to fuck my wife. He's in her pretty good doggy style which she loves. Once again I'm hiding in the bedroom recording the action using Skype. The reason I used Skype was if the guy got suspicious of the computer and decided to check it out, I could disconnect the call and he would have no idea I was recording. But he was so interested in my wife's pussy he never suspected a camera was recording their sexing.
In this third and last clip, he's recovered from his first cum and is hard again giving my wife another good pounding. This guy was really a decent fellow and my wife really wanted him to fuck her without a condom but he wouldn't do it until the last time he fucked her which I wasn't able to get on video. She never did suck his cock either. She said he had a decent size and was plenty stiff, but she just never got it into her mouth.
One thing about him though, was he liked to munch her pussy. I edited those parts out since they weren't particularly interesting. All in all, I enjoyed watching him fuck her and I enjoyed fucking her right after he left. I like sloppy seconds but with condom sex, it's not the same. My wife, however, loves fucking two different men one after the other.