I see my wife Suzanne's  lover for the first time when he walks into the bedroom that I had just left an hour ago. He immediately starts taking off his clothes revealing a well defined muscular body and a large erect penis easily eight inches long. Now I know what my wife sees in him. She enters the room dressed in nothing but black thigh high nylons and high heels. She kisses him as she grabs his cock and pulls him towards the bed. Sitting on the edge of the bed she is eye level with his engorged member. So thick and shiny it looks like it may burst! She nuzzles it with her nose, smelling it, feeling it on her cheek, letting it caress her face with eyes closed. Her right hand cups his balls and her left hand encircles his sack at the top and pulls it down. Slowly her tongue slips out to taste the drop of liquid that has appeared on the tip of his penis. The man gently places his hand on the top of her head then carefully bunches up her hair for a good grip and pulls her towards him as he slips his cock deeply into her mouth. He holds her head hard against him forcing his cock as deep as he can into her throat but not letting her suck it. She moans but does not try to fight or pull away. She likes it. Taking his cock out of her mouth, he lifts her to her feet and kisses her as he lays her on the bed.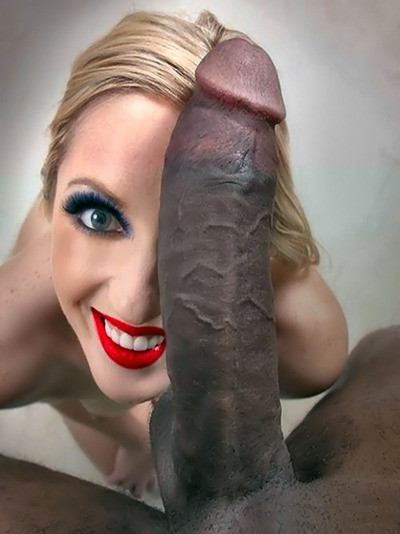 They continue kissing as she dry humps his thigh. She hasn't let go of his cock. My hidden camera is pointing at the foot of the bed. I see between her legs her black pubic hair surrounding her dilated pussy. She is clearly ready for penetration. My wife is not one for a lot of foreplay, but today her lover turns her around and forces her mouth onto his cock again while he begins to eat her pussy. 
I didn't realize my wife was such an enthusiastic cock sucker until I watched this video for the first time. I can see she loves his cock. Licking up and down the length and trying to deep throat as much of it as she can, she grinds her cunt into her lovers face. I watch her head as it moves down between his legs licking and sucking his balls. The lover lifts up his leg so my wife has access to his ass. It completely blows me away to watch my wife rimming this man. Suddenly she arches her back as she starts to cum on his tongue. Another first, I did not realize that my wife could cum from oral sex. She has never been all that enthusiastic about it and I have never been able to make her orgasm with my mouth. This guy has a firm grip on her thighs as he drives his tongue deeply into her vagina. Cumming hard now, she plunges her head down onto his cock and sucks it violently and almost manages to take half of the entire length of it into her throat. I am about to cum in my pants watching this.
The man flips her over and spreads her legs as he positions his cock at the entrance of her swollen cunt. I can see her hole open and ready to receive his cock. I don't think I have seen anything so erotic in my life. A few thrusts and he is in my wife fully. Her lover comments on how wet she is. She begins grunting as she spreads her legs as high and wide as she can. She likes it deep as possible. She loves the friction against her cervix. Toes pointed she cums almost right away. I timed her first orgasm at just under 2 minutes after penetration. Her lover is a fuck brute literally pounding her into the mattress. The headboard is beating against the wall signaling the neighbors that my wife is getting laid again. I hear my wife asking him why does he fuck her so hard? He says "Because that's how you like it. You're a slut and I'm going to fuck you like a slut. When I'm ready I'm going to shoot my cum as deep in your married cunt as I can!" Of course this triggers a massive orgasm for my wife. At that point, I had not even realized that he was not wearing a condom. She's almost hyperventilating as she feels his thick cock stiffen up as he begins ejaculating into her. Screaming "Yes, Yes, Yes" over and over, she spreads her legs as wide as she can trying to take all of him into her hole. From my perspective, I can see his jizz foaming around the base of his cock as he empties his balls into my wife.
The man slows up a bit still deeply embedded in my wife's vagina. Her legs come down as I watch the little aftershocks of her intense orgasms shake her body. I've never seen that physical reaction before either. It's kind of breathtaking when you watch someone so thoroughly fuck your wife knowing that you will never be able to give her that kind of satisfaction. Her new lover is handsome and as dumb as a sack of rocks but he's tall with blue eyes and a fantastic body including that horse cock. Size matters.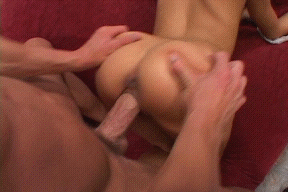 But he's not finished by a long shot. He turns her over onto her hands and knees and enters her from behind. This time grabbing her hair with one hand and slapping her ass with the other. Who knew my wife could cum from a good spanking while being fucked doggy style? Another orgasm almost right away. Her third now. As he pounds her down flat on the mattress, I hear her say "fuck my ass now". My camera is pointed right up between their legs as I watch him slowly push his cock into her anus. She arches her butt up to enable him full penetration. I can see everything now. He's on his knees with his cock slowly moving in and out of her tight ass. She likes anal sex but I did not realize how much and I certainly never imagined she could take one as big as his there.
I'm learning so much about my wife from this tape. He asks her if it is hurting and she says "a little" as she grunts with each thrust. He is fully up in her ass with his substantial penis when she says to him simply "Do whatever you want!" And so he begins to thrust into her a little harder and a little deeper. I can hear her grunts start to turn into the sounds she makes as she is building towards an orgasm. My wife can cum from anal sex and does so quite easily. What is amazing to me is how this guy can continue to fuck my wife without busting a nut. I see her have her fourth orgasm as his balls slap her cunt lips.
I just watched another man fuck my wife in the ass and she loved it.
The guy pulls out of her butt and lays down on the bed with his magnificent glistening cock standing straight up. He tells my wife to turn around, face the other way and sit on his cock. Her anus is gaping as she positions it above his penis and slowly lowers herself onto him. As she sits fully she lets out a small scream as she takes his full length. I'd bark too if I was taking 8 thick inches up my ass! I can see his cock is in all the way up to the root. He tells her to lay back on him as he starts fucking up into her ass. Her legs are spread wide and I am treated to the best view I could possibly have imagined. Her pubic hair matted, her pussy dilated and his cock thrusting in and out of her pucker, I watch my wife's right hand rubbing her clit. Her lover has a nipple in each hand twisting them as he humps her. I hear my wife whisper, "When you fuck me in my ass, it makes my vagina open up and I want another cock in there. That's how I want it!". He responds by telling her she is a fucking whore as he reaches over her Mons and inserts two fingers deep in her pussy. Now double penetrated with his cock in her ass and his fingers in her pussy she is on her way to her fifth orgasm and it is building up to be a big one. She draws back her legs spreading them impossibly wide with her toes pointed straight at me, gripping the sheets with her hands, eyes closed, she starts to cum. She is loud! Her lover is fucking up into her as hard as he can. What a sight to see his large cock sliding in and out of her tight asshole while he finger fucks her pussy as deep as he can. Suddenly he can't hold off any longer and says "Now I'm cumming too!". I've never seen her react like this before, she is completely out of control and her man is holding on as best he can as he finally manages to dump his second load deep in her bowels. What an orgasm my wife has. I've never seen her like that. It looks like she's nearly passed out. As they stop, she tells him not to move, she wants to enjoy his cock as it softens. He's still got a bowling ball grip on her vagina which has a line of creamy fluid running down around his cock in her ass.
Finally after, at least, 5 minutes they begin to stir. The dude rolls out from under my prostrate wife, grabs her by the hair and pulls her head down to his crotch and tells her to clean him up. I can't believe it as Suzanne opens her mouth to take his slimy, wet cock, direct from her own ass, deep inside sucking his softening shaft and licking it around the base as she cleans his cock and balls with her tongue.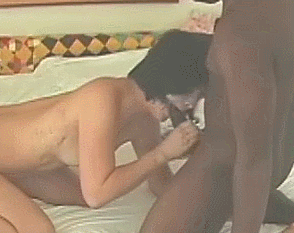 She's had 5 massive orgasms and this guy has fucked her for 45 minutes straight. When he is satisfied, he goes to the shower while my wife lays there with her legs spread and cream oozing from both of her distended openings.
As I continue watching the video, the lover dresses and leaves and I see myself enter the bedroom. My wife is laying on the bed waiting for me. Her pussy and anus red and swollen with little rivulets of cum dripping out. She has made an effort to hold as much of her lovers cum in her ass as she can. "I want your tongue now, baby." she says as she hikes her legs up and spreads her ass. I watch her hole slowly open as she waits for me to drink.
I started this with her, letting other men fuck her, but the genie is out of the bottle now. There's no going back to the way things were. Ever. Now she fucks whoever she wants and I get seconds and clean up privileges.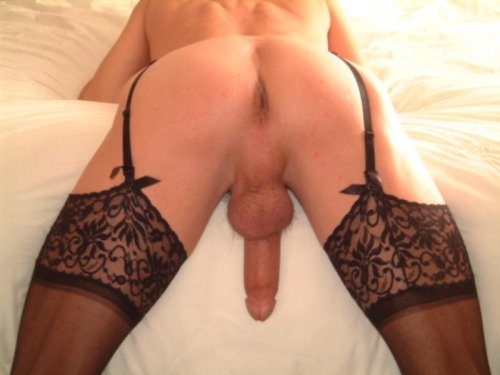 Now I'm waiting my turn.