I sat in a chair beside the bed watching my wife's head bob up and down on her lover's cock. She was taking it as deeply as you can take a solid 8 inches. I could see how she loved it the way she let it rub around her face, licking the shaft and smelling his scent. As she licked down his hard cock, sucking his balls, her head dipped way down between his legs as she tongued that sensitive area between his asshole and ball sack. Watching her do that made my penis rock hard. I wondered if she had ever rimmed his asshole the other times they've been together without me. With his cock back in her mouth, she milked him earnestly trying to get him to cum. I knew she loved to swallow him. He was a prodigious producer of sperm. I'd seen how much cum he could squirt because occasionally he liked to videotape cumming on my wife's face with his cellphone. I also knew that if he came, he could be erect again within twenty minutes. I know all of this because I secretly videotape them when they get together.
The lover knew I approved of him fucking my wife. That took a lot of pressure off all of us. He was married and had no desire to cause his own wife problems, but he did love fucking my wife. Mainly because he could do whatever he wanted with her and she would let him. He had fantasized for months about fucking her in front of me. Which explains how I come to be sitting in this chair beside our marital bed watching him get ready to penetrate her. My wife had resisted this since day one. The last thing she wanted to do was share her lover with me. In the beginning he did not know about me and I was relegated to having to leave the house whenever he came over. Usually her lovers are aware of me and I participate in the activities, but not with this guy. This was her private lover, she found him, seduced him and has carried on with him going on 3 years now. But one day not long ago, she told him that I knew of him and approved of their sexing. That was apparently very exciting to him especially after she handed off her phone to me to introduce myself to him one day a few weeks ago. It kind of caught him off guard, but he quickly recovered and, thus, began his fantasies of what he would like to do to my wife in front of me.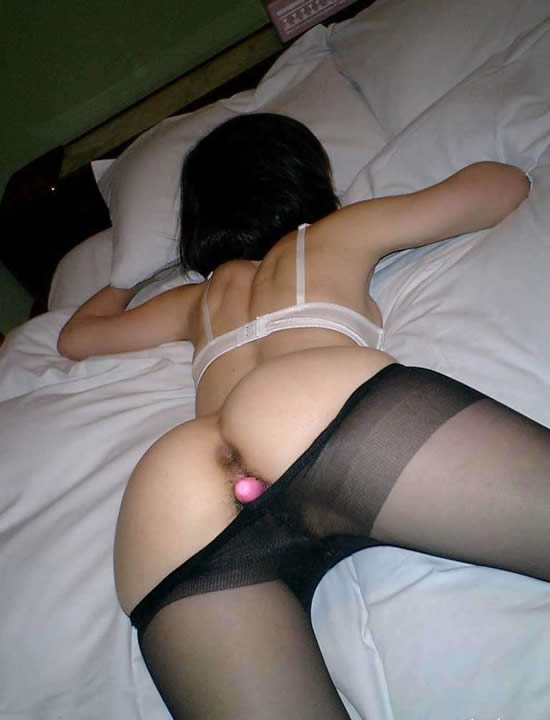 No matter who you are, there is something exciting and forbidding when you cuckold someone and fuck their wife. I've done many times myself before I was married and I love being a cuckold now. The difference is I know about them, I secretly videotape them and I service my wife immediately after her lovers are finished with her. Listening to my wife's current lover talk to her while they are having sex is extremely hot! The first time they were together after him finding out about me, he was fucking her and telling her what he wanted to do to her in front of me when he suddenly started to cum inside her. He worked himself up so fast he busted his nut barely 5 minutes after sinking his cock into her. Fortunately he is in his late thirties and it only takes 15 – 20 minutes for my wife to get him hard again with her mouth.
Today he wants to fuck my wife in the ass while I fuck her pussy. We talked about this the day before without my wifes knowledge. She would have a fit if she knew we were planning on how we were going to fuck her. Oddly enough, it was me that contacted him after that initial first phone call we had. I wanted to talk to him a little about what he could do with my wife. I wanted to explain to him what he was missing out on and what she really liked. For instance, I knew that she liked having him fuck her in the ass. I also knew that she thought he was too gentle, but she did not know how to encourage him to get rougher with her and fuck her ass harder. He didn't know how much she liked being spanked hard while being fucked doggy style. He didn't know that she liked a man to grab her by the hair and force her to suck his cock and that he could do this pretty much anywhere they happened to be. He didn't know she would come to his workplace and let him fuck her in the toilet standing up. So, as her husband, I felt it was my duty to let him know what her limits were, which excepting pain and humiliation, she doesn't seem to have any.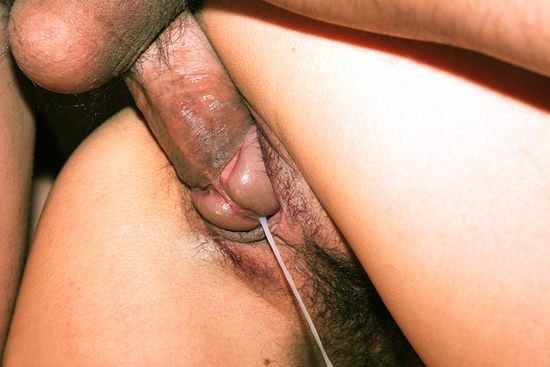 Apparently he wasn't ready to cum in my wife's mouth. After pulling his cock out he situated himself between her legs, pushed her ankles up next to her ears and slowly worked that long thick cock all the way into her. With her toes pointed straight up, she asked him if he felt it. What he felt was his cock-head hitting her cervix. Something that makes a lot of women uncomfortable, but with my wife, increases her sensations and is brutally stimulating to her almost immediately triggering the first of at least 4 -5 orgasms she will have during a fuck session. Her first orgasm doesn't even faze him, he keeps fucking the crap out of her, I think fucking her while I watch is getting him off something fierce. I could see how hard he was before he slipped it into my wife's very wet cunt.
I love the way she is looking at me with hooded eyes, as he gives her a hard fuck. I know he is showing me how a real man is supposed to fuck a woman. When you have an 8 inch cock you get to show off a little. Don't let anyone tell you that size to woman doesn't matter. The first time they are fucked by a man with a large penis, will show you exactly how much size does matter! They will never be satisfied with a small cock again. Oh, they will let you fuck them, and they will moan and groan, they may even muster up a small orgasm, but they are plotting how to get that big fat cock back in their hungry cunt as soon as possible.
Soon he rolls her over and enters her from behind laying full on her and fucking that long cock into her at an angle that punches her g-spot and sends her into another intense orgasms. Knowing that I am there to fuck her, my wife whispers to her lover to fuck her in the ass. He immediately pulls his cock out of her pussy and starts to work the head up her asshole. She grunts and whimpers a little, he's not using lube and apparently doesn't need it. Very slowly but quicker than I would have imagined he has worked his full length right up her butt. Lying face down with him on top of her she spreads her legs to allow him the deepest penetration. It's very erotica and extremely stimulating to me watching another man fuck my wife in her ass. This man has cum in all three of her holes during their relationship and loves to shoot his prodigious load on her face as well.
She's has fantasized about being fucked by two men since I brought it up a long time ago. I know she is as ready as I am. My cock is ready. I took a 100 mg Kamagra pill just over an hour ago and I can feel the effects building. She is about to get the shit fucked out her by super cock! One of the previous sexings with this guy, he was deep in her ass when she told him how taking a cock in her ass made her pussy open up. She could feel it open and wanted a cock in it while his was in her butt. Well, she is just about ready to get my rock hard cock in it if I can just keep from cumming watching them.
After fucking her for several minutes he pulls out and lays down on the bed with his stiff swollen cock pointing straight up. He tells my wife to face the foot of the bed and sit on his cock. She straddles him, backing up until his penis is positioned at the opening of her hole. I can see she is still dilated and easily accepts his cock, sliding down on it makes it go very deep in her which causes her to give a slight yelp as he bottoms out in her. He instructs her to lay back on him fully. His legs are straight out while hers spread wide. I move over to look between their legs, I want to see his cock thrusting into her butt. I can't believe she is able to take such a sizable cock in that tight little pucker. Women will surprise you sometimes. Her cunt is opened up now, every time he pushes up into her it opens up a hole about the size of a quarter. I have a tremendous desire to crawl up between their legs and start sucking her clit, but I don't. I have to wait my turn.
My wife is really loving his cock pumping up into her butt. She's one of the few women I know that can cum being ass fucked. He's fucking the entire length of his large cock into her. She's really close to climax when she tells him to put his fingers inside her. Which as soon as he pushes two fingers into her cunt causes her to really start screaming and she's a loud bitch when she loses it. She yells at me to fuck her now and I am Johnny on the spot. I've been waiting to double penetrate a woman my entire life, I'm so excited I feel like I might have a heart attack! Between their legs now, I realize it's not that easy to get my cock in the right position to push into her pussy. I have put my left leg over both of theirs and at a slight angle I'm perfect to enter her. As much as I want to jam it in, I slowly ease the head into her opening. The guy under her stops fucking her ass while I start push in. I'm surprised at how wet and open she is. I have a pretty thick cock and always have to work it in, but she accommodates me very easy as I push it in to the hilt. She's quite for about 3 seconds as it hits her that she is being fucked by two men she starts with the 'OMG' "OMG' stuff. The guy below starts humping up into her and I start fucking into her. My wife spreads her legs so wide to give us the deepest possible access to her goodies I thought she might break. I can barely feel the cock in her ass bumping mine as I fuck. We are alternating and then thrusting in at the same time with no particular order or rhythm. I'm surprised that I can't feel his cock better. My wife can though and she is screaming her fucking head off as she begins one of the most intense orgasms of her life. We haven't been fucking her for hardly more than a minute when the guy up her ass says "I'm cumming in your wife's ass!". Christ, when he said that, it cause me to immediately bust my nut.
Here we are fucking the bejesus out of my wife and cumming in her at the same time! What are the odds? I have to rank this orgasm as the best in my life. My cum shot out the end of my cock like I was pissing. I've never dropped a load like that. My wife is so out of it. If there is anything that gets her off it's when a man cums in her pussy, no rubber just raw fucking. She loves unprotected sex. Now she has her pussy and ass both full of cum. She commands us to stay inside her. I don't have any problem staying inside her because my cock is still hard as stone. I just blew the biggest load of my life and I am still ready to keep going. The lover's cock is slowly deflating when he just slides out from under both of us. I pull my hard cock out and look down between her legs to see cum draining out of her holes, both distended and slightly open. God, I wish I could videotape this. The one thing I can do is hike her legs up and ram my cock right up her ass! I don't get to have anal sex with her that often because of my thickness, but that is no worry tonight. I'm in like Flynn. Fucking into her swollen ass full of another man's cum is surely going to kill me. I am like a fucking beast. Sloppy butt seconds, I can't stand it, I'm literally fucking the crap out of her. There is absolutely nothing that gets me off more than fucking my wife after another man has used her. But fucking her right after another man came in her and just pulled out is too much for me and I bust my nut a second time. I didn't think she came, but later she told me she did. The bed was a wet mess.
The other dude was in the shower when I went down on her to clean her up and there was a lot to clean. I made her sit on my mouth and let it drain right out of her ass. The cum from both holes dripping into my mouth. She gets off on this and would have made me clean the boyfriend if he hadn't gone into the bathroom. Somehow I don't think he would have liked to be cleaned though. Christ what a slut I'm married to. I love her to death. Women are as nasty as men if you can just get them to let go a little. I have a feeling there are going to be a lot of cocks in her holes at the same time now. It's hard to go back to normal sex when you've had two men.
What a great fucking experience. Her boyfriend left kind of quickly. I thought he might stick around for a while and we could get charged up enough to do it again. My wife was exhausted but definitely game for more. I certainly did not have any trouble getting an erection. I was on a sexual high the entire night. Of course, taking a 100 mg of Kamagra was a lock! I tagged her ass once more before we crashed. It was a great night.