I don't think my wife conscientiously planned to be fucked by 3 men in one day it just worked out that way by happy accident. Let me tell you how it happened. My wife Suzanne's long time lover got caught with my wife's nude photos on his cell phone. Stupid, right? Nothing explicit, but pretty hard to explain away. It was kind of messy with a few phone calls from his pissed off wife to my wife. It wasn't just her, it was every woman in his contacts. She called everyone, but never found out who he was fucking, but she sure as hell knows what she looks like now. Fortunately, things got settled down and quiet, but we thought it would be a few months before he figured out a way to get back between Suzanne's legs. Meanwhile my wife is getting itchy for a new cock.

It used to be that I found the men that fucked her, but that changed as it is prone to do in a cuckold relationship. She took over control of deciding who she wanted to fuck her. Now I am constantly surprised at the men she selects for meetings or auditions as I like to call them. She tends to favor tall older men, especially married ones. I tended to favor younger black bucks with huge cocks. Now she likes a big cock and if the man she lets fuck her the first time doesn't have something substantial in his pants he is not invited back. But I'm getting off track here.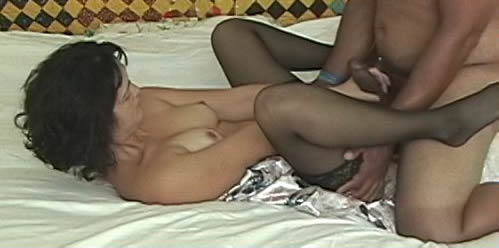 My wife works the night shift as a nurse in a small hospital. I bought her a Apple iPad so she would have some Internet entertainment during the long nights after her rounds. She was surfing a couple of different dating sites when I suggested she try the Ashley Madison website. We took some sexy photos keeping most of her face hidden and put an ad out that she was looking for a sex partner. Needless to say, she got a lot of responses and really enjoyed the attention. Soon she had set up a couple of coffee dates at the local Starbucks. Naturally the guys would want her to come out to the car and, at least, give them a blow job, but she didn't care to do that. She would try to find a way to feel whether or not the man had a nice package. She would usually walk them back to their car and give it a squeeze, but no more. Very few men would volunteer to get a room and that kind of put her off, they all wanted to find someplace to fuck her in the car and that was a non-starter for her. But after a few meetings she did meet a nice guy that took her out to dinner, rented a decent room and managed to fuck her silly one night. Unfortunately for him his penis was kind of average and that was the end of that.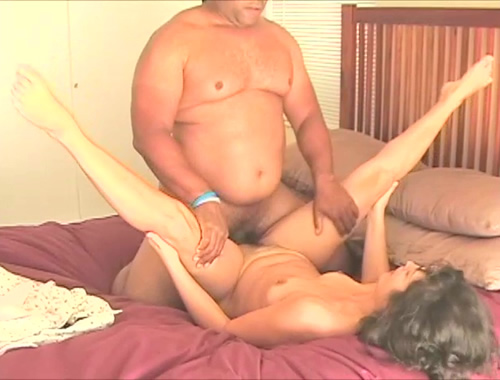 What she was looking for was someone nearby that could come over during the day once a week or so and give her a good fucking. You'd think this would be pretty easy to set up but it's not. She exchanged some emails with a 50+ married lawyer and set up a coffee meeting with him. It went well and they agreed to a rendezvous the coming Friday morning at 8:00 am. Pretty early but it suited the lawyer who would be on his way to his office.
Meanwhile I had suggested this black guy named Nick I had found while surfing her account at Ashley Madison and she met with him as well. He took her out to dinner at a local Japanese restaurant and that impressed her, so she invited him over Friday at 11 in the morning as that was his day off. She now had two men coming to fuck her on the same day!
The third man was someone that had contacted her a week or so earlier. She was interested in him because they had spent a lot of time texting each other and he had to leave town a few days for business but was now back and anxious to meet her. He was a tall well built building contractor that had sent my wife nude photos including some of his very large penis. Suzanne was very excited because this fellow had a lot of the attributes that turn her on.She agreed to meet him at 2:00 pm at Starbucks on Friday after her scheduled two dates of the morning. All of this took place in the 7 or 8 days leading up to Friday. When I pointed out to her that she had scheduled sex with the lawyer at 8 am and sex with the black guy at 11 on Friday she got really excited and thought it would be no problem to accommodate both of them. I mentioned it wasn't just them that was going to fuck her, that I planned to fuck her myself right after each one of them left! I asked her if she thought she would fuck the contractor that afternoon after they had coffee but she didn't think so. She thought it would be too soon and he wouldn't have the time. I told her I thought maybe she should keep the option open just in case. This could turn out to be a once in a lifetime event for her.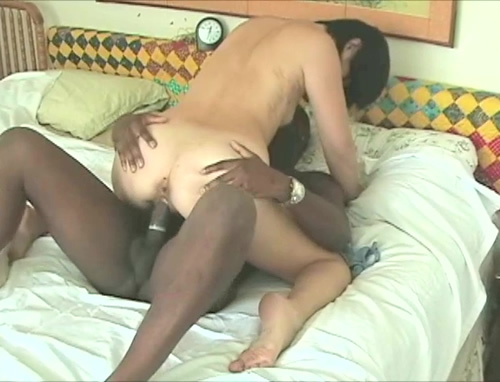 Friday morning finally came. I had already woken up early with a huge boner in anticipation of the day's adventures. I really wanted to jack off, but I knew I was going to get sloppy seconds in a few hours and I wanted to be able to bust a big nut. My wife was up getting herself ready for the lawyer while I set up my hidden camera. Finally I had to get out of the apartment and just in time too, because security called and he was downstairs already. I had an hour to kill so I got some breakfast and it wasn't 45 minutes later my wife called with the all clear. I thought that was quick and rushed back home to find my wife laying on the bed in her black nylons spread wide with her pussy red and swollen dripping with cum. I asked her why he didn't use a condom and she said he would try to put it on and his cock would go limp so she just let him fuck her without it.
Delicious, I wasn't worried about a 50 something guy that's been married for 30 years. My cock was hard as granite when I started licking her pussy. With her eyes closed she started moaning and trying to pull me up and into her. She absolutely loves it when I fuck her after someone else has ejaculated into her. For not taking Viagra I had a good healthy hard-on and I started to slide it into her distended pussy. I can tell you there is nothing better than the feeling my cock gets as it penetrates my wife's sloppy stretched cunt. I asked her if he had a big cock. She said yes, you'll be able to see it because I sucked it a little before he fucked me. As I started to thrust in and out, I asked her if she came (she did) and did she like fucking him. She wasn't into answering any more questions because she was starting to get off on my cock. I knew that the thought of having the sperm from two men in her caused her to have crushing orgasms and she was on her way to a big one. I was riding that wave myself because I couldn't keep myself from ejaculating either and I came very quickly into her as she started bucking her hips up to meet my thrusts. I think that fuck lasted all of 60 seconds.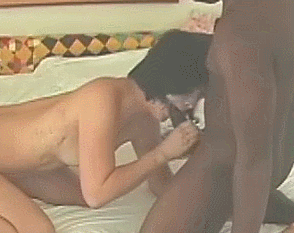 While she laid there recovering I asked her about the lawyer. She said he was nothing special, that while he had a good sized hard cock, he fucked her pretty hard and came pretty quickly. She said she came almost as soon as he eased his cock into her. He was fucking her pretty slowly at first because he was afraid he would cum to fast. She said that's when she told him he was a good fuck, she thought it offended him. She didn't think he was used to women using that kind of language because he immediately pushed her legs up and started pounding his cock into her as hard as he could. After a minute of that she felt him stiffen up as he emptied his balls into her. After that, some small chit chat and he couldn't get out of there fast enough. She said, you'll see when you watch the video. I had forgotten all the about the camera!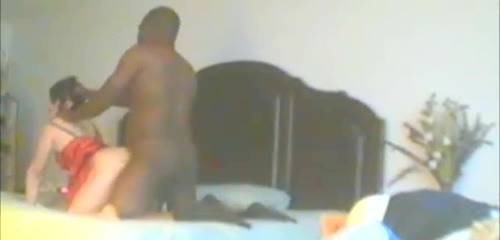 It was 10 in the morning already and I didn't have time to check the video. My hidden camera can record up to 8 hours so I knew I had plenty of time to record Nick the black dude that was due at 11. As my wife took a quick shower, I decided that I was going to set up the web cam on her computer to record so I would have another angle of the action. She doesn't like using the web cam because it is too easy to get caught if someone checks her computer. But I didn't think that would be an issue. I figured Nick would be so caught up fucking my beautiful Asian wife that he wouldn't even think of it. I wish I had some kind of set up that allowed me to see everything in real time, but that costs some real bucks.
Nick called at 10:30 to tell my wife he was a few blocks away. He's running a little early so I quickly left. It wouldn't do to run into him on his way up to fuck my wife. Here's how my wife describes it. "Nick came over early and I had just gotten out of the shower with little time to put anything on but my black thigh high nylons and heels. As I let him in, he gave me a little kiss on the cheek and, of all things, some flowers. None of my lovers have ever thought to get me something like that! Nick is just slightly taller than I am and as black as night. He's got a stocky build but I did not realize how in shape he was until he started taking off his clothes. And he didn't waste any time doing that. I didn't have hardly anything on except a silk chemise and my nylons. He was very gentle as he kissed me and I let him kiss me too. As I held him and started to rub his back I felt how muscular he was and hard. As we stood there with his tongue shooting down my throat, he stripped off everything but his t-shirt and underwear. That's when I saw his huge cock peeking out of the top of his underpants. I quickly led him into my bedroom where we laid on the bed dry humping. I happen to love a man humping between my legs and it will most certainly cause me to cum. Nick moved down to lick my pussy, but I was not in the mood for oral sex especially after two other men had already ejaculated in me this morning, I wanted his cock, but I wanted to taste if first. So I got him to sit up and I bent down to lick and suck his magnificent black baseball bat of a cock.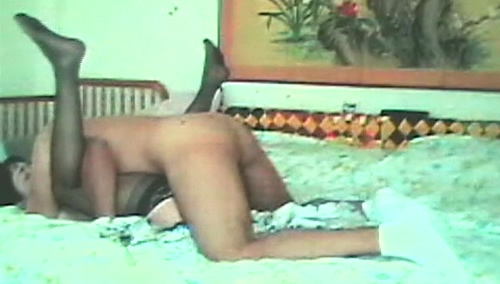 I was getting really wet in anticipation of taking this man's penis between my legs. It looked the biggest cock yet that I have ever had and I wanted him more than anything. My pussy had been fucked twice already this morning and the cum from two men would certainly be enough to lubricate Nick's monster cock. The thought of having a third cock was almost more than I could stand. Nick couldn't know how revved up I was already and when he started to feed that snake into my pussy I had a shattering orgasm before he bottomed out. And he certainly bottomed out. There was at least two inches that I couldn't accommodate but I knew that after fucking me for a few minutes I would be able to take it to the hilt. He commented that he liked how wet I was! He was laying on top of me fucking in and out slowly and gently when he started to fuck me the way nearly every black man with a big penis likes to do it. I'll try to describe it. They encompass me, laying full on, capturing my head in both arms and driving their cocks in long deliberate strokes as deeply as they can. It's extremely erotic and takes my breath away and makes me cum every time. When black guys do this to me, they are usually doing it in front of my husband. My hubby tells me they are showing him how they own me. Fucking me with their big cocks the way he will never be able to. He's right, it's a black thing and it gets me off every time. I'm taking a big chance with Nick allowing him to fuck me without a condom, but nothing gets me off like a man cumming inside of me. I just hate condoms.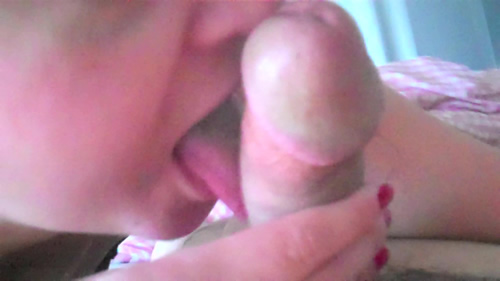 Nick slows down and sits up grabbing a pillow and stuffing it under my butt to raise my pussy up so he can get a better angle and diddle my clit at the same time. He's starting to fuck me harder and I tell him he's going to make me cum. That turns him on and I feel his cock get harder as he starts pounding me. I tell him that's how I like it as a huge orgasm washes over me. My legs are spread way apart, my toes are curled tight as he grips my waist and proceeds to fill me with his seed. I feel his super hard cock pulsing jets of sperm deep inside of me lubricating his powerful thrusts. This man can cum! I am drenched between my legs and I feel a river flowing out of my pussy when he pulls his rapidly deflating cock out of me. I'm exhausted, sore and I can hardly move, but like most men, Nick can't wait to get dressed and get out. I'm definitely going to have him back again."

So that's how I found her when I got back to the apartment less than 10 minutes after Nick had left. She was laying right where he left her on the bed, her cunt swollen, puffy red and open with cum still dripping out. A delicious site to a confirmed cuckold like me. I quickly went down on her to gently lick her pussy and have a salty taste of the remnants of 3 different loads of cum she's taken so far today. But I'm not cleaning her for long as my turgid cock is straining in my shorts to slide in her sloppy pussy. Jesus Christ, I feel like I'm going shoot my load before I can even get my cock in her. Somehow I manage to get inside her loose greasy hole before I squirt. Unbelievable feeling knowing the action she's had this morning already. I'm squirting immediately but I don't think I have much juice left though. Not really sure that she noticed that I fucked her after Nick's impressive tool opened her up!
It's only about noon now. My wife is exhausted and about to fall asleep. She has pushed me away now claiming that she is sore. I decide to let her sleep for an hour. She still has to get ready to meet her building contractor at 2 pm. The Starbucks is only one block from our apartment so she can wait right up until the last minute to go over and meet him. I'm keeping my fingers crossed that she will like him and invite him home right away. Even though I feel like I'm fucked out, my cock starts to harden up at the thought of a third man in my slut wife's cunt in the same day.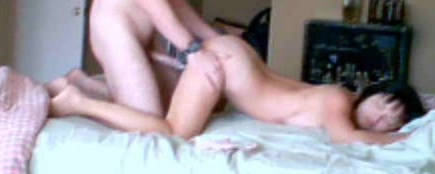 "We've got to change the sheets." is the first thing out of my wife's mouth after her nap. "Are you still going to meet your man at 2?" I asked. "Yes, of course, It will be fun, I might even fuck him." That told me she was still horny. "I thought your pussy was sore?" She looked at me while she rubbed her pubic hair, "It's a good sore. It feels sexy to me. My lips are swollen, cum is leaking into my panties. I think I might want another fuck this afternoon. What do you think?" She looked at my pants and saw that I was getting hard again. "Well, I guess that answers my question" she laughed.
Just before 2 pm, the contractor texted that he was almost at Starbucks so Suzanne left to meet him. She told me that if she liked what she saw and he was available, she was going to bring him back to the apartment. She also said she would text me and let me know she was coming. I planned on hiding in the closet in the second bedroom. I have a wireless audio bug velcroed under the headboard on the bed so I can hear everything. All I have to do is turn on my hidden camera to record the action. I was all set. Of course, it may all be for nothing if she doesn't like him, but one thing for sure, I was going to fuck her again when she came home. I figured I would take a Viagra in the next hour or so, depending on what happened because I planned on a serious afternoon of sex!

About 2:30 PM, I received a text from my wife that she was on her way home with the contractor. So she had decided to fuck him after all. I quickly got everything squared away and immediately hid in the closet. I did not figure it would take them long to arrive and it didn't. I heard my wife laughing as the door opened and they came in. Then it got real quiet. Later she told me they kissed and started stripping each others clothes off right there in the foyer. She fell right down on her knees to suck his cock as soon as she could free it from his pants. I asked her if he had a big cock and she said not real big but bigger than mine and very hard.
After sucking him for a while, the contractor, his name was Bob, got her on her feet where she grabbed his penis and pulled him into the bedroom. This is where the video started and I could hear everything they said. Bob was in decent shape and he was a big guy. Muscular with a slight paunch, he was tall and that cock stuck straight out. When Suzanne said he was hard, she wasn't exaggerating. My wife climbed up on the bed and Bob crawled between her legs to start lapping at Suzanne's pussy, but she whispered that she wanted his cock inside her now. It's amazing to me how many men are willing to stick their cocks into a woman they hardly know without putting on a condom, but they do. And Bob is no exception, he rams right up into my wife as far as he can and since she is so wet from 3 other men, it goes in like a hot knife in butter. Naturally he thinks she is wet because of him. Suzanne responds immediately to his frenzied humping. Clawing at his back while throwing her legs out and wide, she starts chanting, "fuck it, fuck it, fuck it!". It doesn't take her long to have her first orgasm. Bob is a machine. Just going at her hot and heavy.

Now I'm hiding in the closet so I can't see anything, but I have an audio bug device with headphones and I put the remote mike under the headboard so I can hear everything real good. I decided to sneak out and see if I could see into the bedroom. I wasn't worried too much about getting caught because I thought they would be both be too occupied to notice me. I was careful peeking into the doorway because I could see that I might cast a shadow on the wall and if Bob was looking in that direction, he would surely see something. As luck would have it, I could see my wife's leg sticking straight up and Bob's untanned ass moving up and down, his head buried in my wife's shoulder facing away from me.
Suzanne saw me though. She quickly took her left hand and mashed his head into her shoulder and made a face at me. Then her eyes rolled back into her head. I knew she would get off big time knowing I was watching another man fucking the hell out of her. Since I was wearing boxer shorts, I took my cock out and started jacking it as she watched. Bob, the machine, hadn't let up a lick and just kept on fucking into her with no change in rhythm. Now this was wicked. I had a huge boner. I was extremely hard and wanted to cum in the worst way. Suzanne's eyes were glued to my cock as I jacked it. She started huffing and grunting and I knew she was getting close to her second orgasm. She started telling Bob to cum inside her. "Cum baby, cum, Cum inside me baby, cum inside me"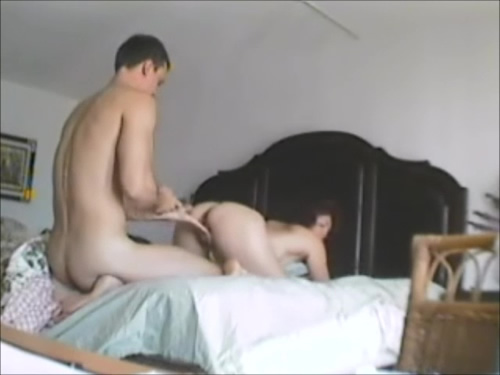 Bob mumbled "gawd you're making me cum, ohhh". That was all I needed to hear. I started to squirt, but realized I couldn't shoot on the floor, they might step in it later. So I shot my cum on the wall next to the door. When Suzanne heard and felt Bob stiffen up to ejaculate and saw me jacking and squirting, it made her have yet another orgasm and we all came together. I didn't stick around. I know when a man is done, he doesn't like to linger. I raced back to my closet and quietly closed the door. I just hoped he didn't notice the rivulets of cum running down the wall outside the bedroom when he left. I could here Bob telling Suzanne what a great fuck she was and when could he see her again? Later, when I checked out the video, I saw him when he rolled off of her after shooting his load. His cock was still hard. Just sticking straight up from his belly after all that fucking. My wife played with his cock a little before asking how come he was still hard.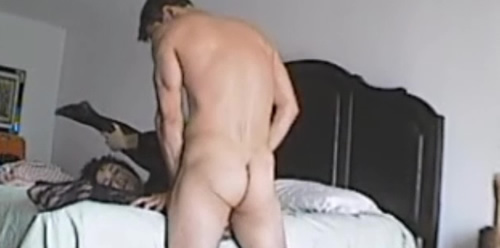 Bob laughed and said "well, you turn me on something fierce. I've had a hard on since we met for coffee!" With that, he turned her over and pulled her to her knees and started fucking her doggy style. I heard this in the closet but decided to stay put. I didn't want to risk being seen now. But listening to them fucking a second time got me hard again too. My wife told him to spank her and he swatted her behind a few times and that got her going again. In the closet I'm thinking why does every guy she fucks have to be super cock dude? I've never been able to fuck her like these guys do. Damn. Later watching the video, I can see Suzanne is really enjoying him fucking her from behind.
Finally, he just stops and says, "I'm not going to be able to cum again, sorry.". My wife looks back at him over her shoulder and says "fuck my ass." She knows how to get that last drop out of a man's balls and she does it by inviting him into her ass. I figure her cunt must be raw as hell by now. I also know she loves a hard ass fucking after she has cum a few times. Bob slowly works his stiff cock into her relaxed tight anus and begins to slowly penetrate all of his penis as deep as he can into her butt. It doesn't take very long before he is about to bust his final nut and he starts fucking Suzanne's asshole as hard as he fucked her pussy. Wacking her ass cheeks nice and hard, he grabbed the back of her head by her hair and pulled. That's all it took, that's exactly how my wife likes a man to fuck her, brutally and totally in charge. Bob yells "fuck" and shoots deep in Suzanne bowels. Finished, he just pushes her off his cock into the bed.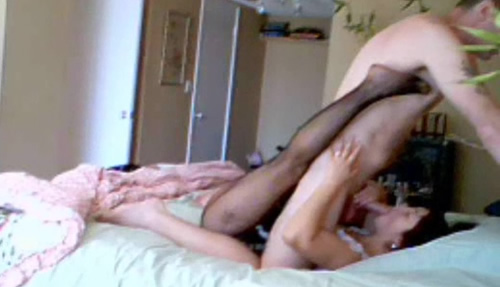 On the video I can see that this is what Bob likes. He likes a little rough fucking himself. He tells Suzanne to get a hot washrag clean his cock and balls. When my wife hustles to take care of business, I figure I'll be seeing Bob back again. Cleaning him carefully, she can see he is still a little hard yet, but he's basically done for the day. They make a little small talk and discuss when they can get together again and then he's gone.
Being in the closet, all I heard was "fuck my ass" and I knew. Suzanne is exhausted and sweaty. She's fucked out. I don't care. I walk her back into the bedroom and bend her over the bed. It's not too often that I get an ass fucked creampie. I stare at her swollen ass, I know she won't say no. I can see a little seepage and I rub the head of my cock into her dilated anus. It's heaven on earth and it is still tight and it is slippery and hot and I cum way too fast.
We fall asleep together for a few hours. I'm going to have to clean up the mess between her legs later and I'm going to have to use my tongue.It was quite a day for Suzanne. 3 lovers and her husband a new record.