A while back I was desperately exploring my bisexuality. I had convinced myself that I could have the best of both worlds. I met an old Greek guy through Craigs List. He was advertising himself for couples as a bisexual partner. I contacted him and asked to meet to see if he might be interested in fucking my wife. As it turns out, he wasn't very far away and I stopped by to visit him.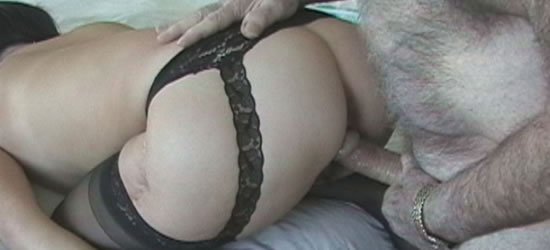 We went to his bedroom where he started showing me videos of himself fucking some woman. I showed him pics of my wife and told him we were interested in exploring a threesome. He asked me if I liked sex with men and I said yes.  At that, he undressed and exposed a long hard 8 inch cock. I admired the fact that he was able to display such a magnificent penis at his age and I proceeded to suck it. It was the first cock I ever sucked as an adult. Slender and hard with a large helmet, I tried to take it all the way down my throat.
The Greek wasn't interested in my blowjob, he wanted my ass. Popping his member out of my mouth, he lay down behind me and slowly worked his rod up my butt. I've had my share of dildos so after a little discomfort he was buried to the hilt. He worked his cock in and out until he was pounding me like his little bitch and I was loving it. Soon and it was too soon, he busted a nut and the ride was over.
It turns out that I'm not all that interested in having sex with men. I can't decide what defines my desires though. I really am not interested in butt fucking a guy or even letting a male suck my cock. However, I do love sucking a big cock till it cums in my mouth and I especially like getting fucked in my ass! Unfortunately male to male sex does absolutely nothing for my wife and she prefers to leave the room rather than participate. But I'm getting off topic.
Convincing my wife to fuck another man was no easy task. Although, I must say, she wasn't completely against the idea. In the beginning, she got off more on the fantasy of it, but I was consumed with the idea. I've had this fantasy for nearly my whole life with every woman I've been involved with, but never have I been able to pull it off until now.
I thought my wife would be turned off by the Greek's age. He had to be in his early seventies, but when he showed up at our place, she was very receptive to him. Since we all knew what we were there for, I led both of them back to our bedroom where my wife undressed and assumed the doggy position on the bed. There was no foreplay, my wife prefers to get fucked immediately. I was beside myself with anticipation, I thought I might have a heart attack! I was so excited I could not get a hard-on. The Greek tells me to put on his condom while my wife watched. Her eyes were wide open at size and hardness of his cock. He had to lube the head so it would slide into her tight pussy. She had never had a cock that bottomed out in her before.
Busy videotaping the action, I watched as she closed her eyes, her arms outstretched holding the bed covers while he began building up the deep pounding action.  She started grunting like I had never heard before. The base of the Greeks cock was building up a white creamy residue from her rapidly lubricating cunt. My wife is very easy to bring to a vaginal orgasm. I could tell she was starting to get to the point of climax. I came in my shorts. I was so surprised I nearly dropped the camera. Then the Greek came. That was it. The fucking stopped and my wife was left hanging.
The Greek apologized and quickly left. Naturally my wife wanted me to finish her off, but I had just popped myself and was basically useless. Since she is one of the only women I have ever known that does not care for oral sex, she got the short end of the stick that day. I didn't care, I had a video, my wife finally fucked another man, and I couldn't wait to do it again.
We had the Greek over one more time and the results were pretty much the same. He couldn't give her the sustained fucking she needed to cum. 10 minutes in her tight pussy and he was a gone dead train. The wife was no longer interested in him. I had to find another man.
Our second man was a 50 year old Latin guy with a normal 7″ cock. Nice guy, but 10 minutes of fucking and he was finished. These guys were too old and were not giving my wife what she needed to want to continue. We had talked about younger men, my wife is 34, but she did not want to mess with them thinking they might have more risk involved with their lifestyle. This was when I first brought up sex with a black guy. She said no, she did not want to have sex with a black man. She didn't find them attractive and so on. She went on and on about it until I realized that she was hot as a firecracker about the idea.
She gave me the green light and I went in search of a big cocked black.