My wife got more than she bargained for last week when her lover showed up with one of his service buddies. She's been carrying on an affair with this guy for more than two years now. He works at a hospital as a male nurse which is how she met him. He's a decent sort, married with kids, stable, good looking, and well built with a 9 inch cock almost as thick as my wife's forearm. My wife loves that cock and this guy knows it. He can make her do any damn thing he wants. He knows just how far to go with her. She is his slut and he makes no bones about it. I've learned a lot about my wife from the way she responds to the way he dominates her. She likes mild pain, humiliation, rough sex, and generally being treated like a whore. He doesn't know I know about him or that I video them every time they get together. He's aware that my wife is in an open marriage, but has not concerned himself with much more than that. In the past two years they have been fucking, he has taught her how to suck his cock, deep throat it and swallow his cum. He introduced her to anal sex and that is no mean feat when you have a cock as large as his. Now it is one of her favorite kinds of sex. And even though she is a fairly petite Asian woman, he has trained her vagina to accommodate his entire penis completely. Fortunately my wife is multi-orgasmic and gets aroused very quickly which helps her take his cock in whatever hole he chooses.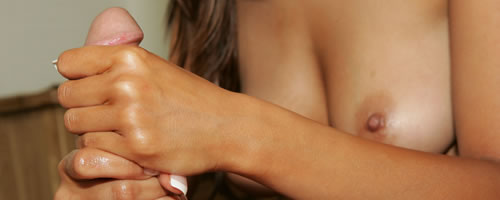 The last few times they've gotten together their pillow talk has revolved around my wife's desire to have sex with two men. It is actually my hottest fantasy but I have turned her on to it and suggested she use it to simulate their sex sessions and draw her lover out on his particular fantasies. Her lover has unexpectedly responded to this fantasy in a big way. He has introduced double penetration using a large rubber cock in my wife's pussy while he ass fucks her and this has driven her wild. The orgasms she has managed from these sessions have fueled her fantasies as well and made her much more receptive to inviting another man into her bed. The problem was always where to find another man. Her lover, being married, didn't really know anyone well enough either. I had thought that the only way this would ever be accomplished would be to go to a sex club and look for a partner. Of course, going with her lover was out of the question. No way he's going to get away from his wife for an evening. My wife was not very enthusiastic about letting a stranger fuck her either. So that fantasy was pretty much a non-starter until her lover walked in with his buddy from the Marines.
Part of their sex talk revolved around the desire for another cock in the mix. Her lover picked up on it pretty seriously and kind of surprised my wife. She told me she did not think he would respond well to another male in her fantasy, but she's been mildly surprised and turned on about his frankness about playing with another male to the point she thinks he could have some bisexual feelings he has not acted on. Could be, I know I have them. If you put me in the middle I'd suck his cock as easily as I would lick her pussy!
Their last time together a couple of weeks ago, he was fucking my wife doggy style when she whispered "fuck me in my ass." She is very receptive to anal sex after she has had a few orgasms from his massive cock. Being so relaxed allows her asshole to dilate enough to take his length with minimal pain and after a few minutes you can hear her tell him to "do whatever you want" which means he can fuck her as hard and deep as he wants. And he does. After a few minutes he pulls out and lays on his back telling her to mount him facing away from him. She climbs up and over his erect cock and maneuvers it into her open anus, sitting down on it drives it deeper than ever and she lets out a deep moan as his cock fills her. He tells her to lay back on him. Remarkably their open legs just happen to be in the direct line of my hidden video camera. I'm usually not so lucky with such a good view. My wife is laying on top of him face up with her legs spread wide and his cock all the way up in her ass. I can see her hairy pussy slightly opened because of his huge cock that is slowly starting to saw in and out her ass. What a fantastic video I'm getting, one of those rare shots you couldn't get if you tried. He's twisting her nipples while driving his cock up her ass when she says, "when you fuck me, fuck me in the ass. My vagina, it slides open and I want to feel another cock in it. That's how I want it! Now put your fingers in me!" With that he puts two fingers in her pussy and starts finger fucking her. After a few minutes of this he cries out that now he's going to cum and starts bucking up into her butt as he empties his balls into her. She screams "do it, do it, it's your ass, everything is yours"! My wife manages to orgasm from his finger in her pussy and his 9 inch cock buried to the hilt in her ass. They lay there for a few minutes before he pulls out and a river of cum pours out of her distended anus. I could have easily dropped a few golf balls in her colon. One thing about this guy, he can produce an enormous amount of semen. I know because I have eaten my share of it out of my wife's freshly fucked pussy.
He did not tell her he was bringing his friend. Later he said that he thought the worse that would happen is she would tell them to leave. He had no idea if my wife would be receptive to having sex with his friend or not. Fortunately the friend was tall and good looking with a nice countenance. Being that he was still in the Marines he was in spectacular shape and that pretty much cinched it for my wife. Like I said before, her lover completely dominated her and has fucked her in bathrooms, made her suck his cock in the parking lot, pretty much busted a nut into her where ever it caught his fantasy so he had no problem taking control and immediately started kissing, fondling and undressing her in front of this guy. Of course my wife was turned on big time right away as she was stripped naked in front of these men. She later told me she was almost faint with excitement about what was going to happen. She trusted her lover implicitly and that really helped get her relaxed and receptive. I could not see any of this as they were in the living room and I did not have a camera in there. I could hear bits and pieces but could not see any of the action. Afterwards when I was between her legs cleaning her up, I asked her to tell me what happened in the living room before they moved into the bedroom and the camera started picking up the action.
She said her lover stripped her while kissing her with deep tongue. She said within minutes her pussy was literally so wet it was running down her thighs. Her lover unzipped his pants and pulled out his cock and pushed her down on it. Holding her hands high above her head, he forced his cock into her mouth and told her to suck it. The other man stood next to them fully dressed rubbing his crotch but made no effort  to join them. After a few minutes of sucking, he pulled her up standing and slowly turned her around displaying her naked to his friend. Neither one of them saying a word. At this point they all walked into the bedroom and the camera started picking up everything. My wife's lover got undressed very quickly. I could see his turgid cock standing straight out as hard as stone. The man was extremely turned on. The veins were literally popping on his shaft. The man likes to eat pussy and he pushed my wife back on the bed and crawled in between her legs and got busy. Meanwhile his friend pulled up a chair and just sat there full dressed watching the action with my wife looking him right in the eyes. She told me later that seeing the stranger watch her being fucked was one of the most erotic moments of her life.
Her lover took her fast and deep with his huge cock. He was so hard and swollen, I surmised that he must have taken Viagra. A fuck session with my wife and him generally lasts about 45 minutes and that is a lot of fucking in different positions before busting a nut. I use to be able to do that when I was younger, but not anymore. Which is why a 60 year old man like myself married to a 37 year old woman keeps her happy by letting her fuck younger men. I'm not stupid and she loves me for it. When the young guys leave, no matter how sore she is, she makes sure I'm taken care of. Goddamn, it does not get any better than that! Anyway back to the story. My wife will have her first orgasm within minutes of penetration and so it begins. Normally she will have at least 5 or 6 huge orgasms and a lot of little ones. It is so hot that it stimulates her lovers something fierce. There is nothing more satisfying to a man then to know he has made a woman cum. With my wife there is no mistaking that. All this time, their guest has been sitting there watching them. I'm wondering if maybe he's not going to join and is just there to watch when I see lover boy fitting his cock into my wife's butt. Now I understand how it is going to go down. 20 minutes of hard fucking has turned my wife into a quivering sweaty slut that can barely move. He is slowly acclimating her ass to relax enough to take his cock easily. Fucking her doggy style, he lays her down on her side with his cock still buried deep in her bowels then slowly turns over on his back with her on top. Exactly the position he fucked her in the last time he was here. Unfortunately I didn't get the great camera angle I did the last time. This time his is laying diagonally on our bed with both legs over the corner. The perfect position for a woman if you are going to double fuck her because it allows the second man to stand.
My wife's lover says Jeremy are you ready? While my wife is laying face up on top of her lover he is slowly pumping his cock in and out of her ass. Her legs are spread over his and her vagina is fully dilated. Completely open and waiting for a cock. It is unbelievable how she looks with legs spread wide and a massive thick cock is up to the hilt in her ass. You can't believe that it is all in there and how can she take it all? But she does and she loves it. The friend Jeremy is undressed now and sporting a healthy boner himself. It looks to be about 7 inches and a normal thickness. I suppose it would be too much to ask to have two giant cocks in the room. With my wife watching him he moves up between her legs as she sits up slightly to watch his cock. Her lover stops fucking her ass to give Jeremy time to enter my wife's open pussy. As he brings it to the entrance of her cunt and starts to push up into her, she looks up at him and watches his face as he penetrates her fully. It is surprising how easily she accepts his cock. In spite of the enormous penis in her ass, her vagina canal is still able to accommodate another good sized cock with no problem. My wife is strangely quiet for about 5 seconds as Jeremy begins a rhythmic thrusting then she begins to start moaning louder and louder as the cock in her ass starts moving. Soon both men are alternately going in and out as my wife screams at them to fuck her harder. Her legs are spread wider than I have ever seen, toes pointed as she begins to orgasm like never before. The lover in her ass yells that he is cumming and starts humping as hard as he can as he empties himself deep inside her triggering the other guys orgasm as well. That was when I realized that our guest was not wearing a condom as he, in turn, filled my wife with his sperm. It was over in less than a minute. One of the most awesome sex scenes I had ever witnessed with my wife had just happened and I had it on tape.
After they had busted their nuts in my wife's holes it did not take them long to leave. My wife called me and I was back home in a flash to find her lying on the bed fluids still seeping out of her red swollen dilated holes. She was almost comatose as I proceeded to get down between her legs and, using my tongue, began to clean her up. I'm not too shabby in the cock department myself. I have what my wife calls a beer can cock. Slightly over 6 inches long but as thick as a beer can. Women have always liked it and she's no exception. There is nothing I like better than to fuck my wife after another man has cum in her pussy. It takes me just seconds to add my load to her belly and she quickly falls asleep.
As I look at her laying there just fucked by three men, I realize that she is the woman of my dreams and I am going to die a happy man someday!