This is my first attempt at writing, so I hope you'll bear with my inexperience. This is a story about my boyfriend, my ex-husband and me. How I finally crossed the line sexually. I'm wondering why I waited so long. First, let me describe myself. I'm 5′ 5″ tall, 112 lbs, blonde and 36D-24-34. In my 28 years, I have slept with around 14 different men. Most of the sex has been fairly conventional, although I have let three men fuck me in my ass. I'm very good at oral sex. I love the feeling of a man's cock in my mouth and I like for him to fuck my mouth with it. I guess that's why I like foreplay to be a little rough. I like a man to lick and suck my pussy and I especially like it when he sucks and tongues my asshole. It took me a long time to realize how sensual that could be. With men, I like a flat belly, tight balls and a hard cock. I don't worry too much about the size of a man's cock as long as it is hard. Don't misunderstand; I like a big cock as a rule.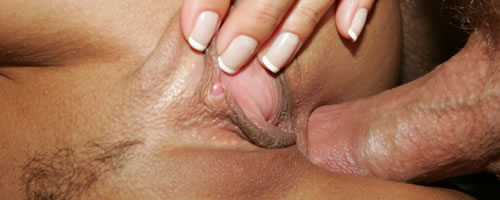 My ex-husbands was 7″ long and fairly thick, plus he had a large ring pierced through the head. It's called a Prince Albert piercing. More about that later. With the exception of my ex, most of my sexual experiences have been with average sized cocks. This brings me to my current boyfriend, Tommy. He is as well endowed as my ex. In fact, I would say their cocks are just about the same, except Tommy's has a pronounced and delicious curve to it that hits a special spot deep inside me. I understand that I have sexual feeling towards other women, but I have never acted on them. My ex-husband would encourage me to try it. He wasn't threatened by girl-girl sex. At first, I thought, he's trying to do this for his own fantasy. I later found that he wanted a threesome all right, but with another guy. I wondered if he was gay, but I should have known better. He is the most liberated man I have ever known.
I like to watch lesbian porno movies. I get hot when my ex talks about women on women. I get wet when I'm with certain of my girlfriends. I fantasize about licking and tasting another woman, suckling on her tits while she's lactating, rubbing our pussies together and so on. I never explored my own sexual fantasies too deeply until recently. I never imagined the thrill of two men in my bed. How much I liked being photographed in lewd and pornographic poses. My black man fantasies. Gang bangs and large cocks occupy my thoughts quite a bit. For years, my ex-husband would whisper in my ear, as he fucked me, the thought of another man's cock in my mouth. He would place a rubber cock in my mouth and I would willingly suck it. He introduced me to a large 8″ realistic cock that he liked to fuck me with. I liked it too.
My fantasies began with that cock. It was a large part of our foreplay in the beginning. I was too shy to ask for it myself, but always hoped he would use it when we had sex. At first, he would eat me while he jammed it inside me, but I would cum too quickly that way. He had a way of getting on top and between my legs while he pumped the dildo in and out of me. He would hump me with his hand between us jamming the dildo. It felt like a different man was fucking me, a man with a huge cock. I began fantasizing it was another man and when he was done with me, my husband would take his turn. I began to like the idea of being used for sex.
When I first met my ex-husband my sexual experiences were rather mundane. My ex introduced me to wild and dangerous sex. One of our first times together set one of my strongest desires. We rode his motorcycle into the country and parked just off the highway. He led me to a field and pushed me to my hands and knees and took me from behind like a dog. I was so turned on my juices were running down my legs. It was so reckless and unlike anything I'd ever done. He fucked me really hard and came in me fast, just the way I like it. Although, we made love and fucked in many different ways, getting bent over and fucked remains my favorite sex. It's my one secret way to be seduced. If a man knew he could just bend me over a chair and lift my skirt, he would find I would be ready for him in an instant. Any man.
My ex-husband understands this, which is why we still fuck after 6 years of divorce. My ex began taking nude photos of me before we were married. I had never done anything like that before and it got me hot! This went on for some years and we eventually ended up with quite a collection. We chronicled my breast implants, which I got in 1992. I went from a 34 B to 36 DD and wished I had gotten bigger ones. I love the effect they have on men, and women, for that matter. I just love my boobs. I love to look at them and the way they feel. I love to touch myself. My ex wants me to get my nipples pierced and my clit hood. I don't know yet if I will. The idea excites me, but I'm afraid of the pain.
Anyway, the wildest photo session we ever had and what started me on my sexual odyssey was with my ex's college roommate. The roommate was staying for a week on vacation. We got along really well and I was attracted to him. My husband wanted to invite him into our bed, but at that time I was too intimidated and inhibited to have sex with two men. He even suggested that I fuck him alone first, which I almost did. I didn't realize the reasons behind my husband's suggestions. Later I discovered he hoped it would open me up sexually. And eventually, that's what would happen. However, I was really into teasing and flirting with his friend. They would both manhandle me in the pool and I would grab their butts in their swimsuits. I finally let them give me a full body massage. I wanted them to see and touch my tits. I wasn't shy about showing them off.
When our guest first arrived, my ex told him about my breasts and I showed them to him right in front of my husband. Because of all of this, our sex was really intense the week his friend was here. My husband knows that I have never considered blow jobs to be sex. I always defined sex as intercourse with everything else foreplay. This is why I sucked his friend and how it happened. My ex suggested we do a photo session with his friend. It would be soft porn, simulated sex, he promised me he wouldn't pull anything or put pressure on me to fuck them. I said yes. Secretly, I was extremely turned on. The way things were going; I was getting into the idea of sex with both of them anyway. My biggest fear was that it would change our marriage for the worse. No matter what my husband thought. I was wet with anticipation all day.
Later that night, we were sitting around the living room when my husband got the camera. He suggested we strip each other while he shot pictures. Somehow I got naked first. His buddy turned around when he took off his pants so I couldn't see his cock. But when he did turn around I was shocked at its size. It was huge! He said nine inches and thick and hard. My husband told me to touch it and play with it. With the camera clicking away, we posed in different ways. My mouth over the end looking like I was going down on him. Him behind me with his cock sticking out from between my legs. That was nice because I rubbed my wet slit up and down its length. All kinds of pictures looking like we were about to have sex, but with no penetration. Finally, my husband asked me to take the head of his cock in my mouth and pretend I was sucking him. Then he put us in a 69 and I could feel his friends face between my legs. He just put his mouth on me and didn't do anything. I guess he wasn't sure how far to go.
My husband wasn't concentrating on him anyway. He was snapping photos of me pretending to suck his cock. I couldn't take much cause it was so large. And I didn't suck him either. I was just doing it for the photos. I started to feel his tongue dart into my pussy. I just pushed it harder onto his mouth. My husband couldn't see or else it's what he hoped would happen. It didn't matter; at that point, I just started sucking him off. I thought, what the hell, this is what they want anyway and I was so hot. Well, he came in my mouth right away. Gobs of it and I swallowed all of it. This turned my husband on immensely and he immediately got behind me and pushed his cock into my pussy. His buddy stayed right where he was and licked my clit while my hubby pounded into me. Needless to say, I had the most intense orgasms of my life. I never let his buddy fuck me though. Looking back, I wish I had tried that huge cock, as it is the biggest I've seen so far. I did enjoy sucking his cum out of it though. And unknown to my hubby sucked him off a few more times before he left. I was so tempted to let him fuck me though I just couldn't do it.
The photo session had the effect of causing me to really consider a plunge into the sexual unknown. That I had sucked a man to orgasm and swallowed his cum right in front of my husband removed a great deal of my inhibitions. I began to explore my sexuality by myself, while my husband was at work. I never considered being unfaithful to him, but I learned to pleasure myself with dildos and vibrators alone and away from him. Watching our videos and seeing 2 or 3 men fuck a woman began to work on me. I began to get excited watching a woman receive anal sex. I was fascinated by it as I was learning to love having my asshole sucked and licked. I had painful experiences with anal sex and wasn't too into doing it. In fact, I didn't like my husband licking my ass for the longest time. Then one day it just felt so good and perfect. Of course he got right into it and began talking dirty about how I would, someday, beg for his cock in my ass. He was right, although it was several months later. I had been experimenting with a long thin dildo. I liked the way it felt when I pushed it up my ass and another in my pussy. I wouldn't let my husband do this, but I did it alone when he wasn't around.
My main fantasy at the time was remembering sucking his friend after the photo session. I found a few times alone with his friend and, feeling bold and slutty, took his cock and sucked it. It was so erotic to both be fully dressed and in an unexpected situation. I felt such power and a feeling of being in control of my desires when I unzipped his pants and pulled his hardening cock out to suck on it. I felt no guilt about it at all, only my pleasure and a certain satisfaction that my husband wasn't controlling the situation for his pleasure. His friend certainly didn't complain! Long about that time, my ex decided to have the Prince Albert piercing done. He did it as a surprise for me, but it surprised him more. I guess he didn't realize or expect it to hurt so much. His penis was too sore to suck or fuck for over 2 months.
During this time, to compensate, he developed his oral skills to an art. To this day there is no man that can do me with his mouth like this man can. He began opening me up to anal manipulation taking advantage of the fact that my pussy was a slave to his mouth. I couldn't get enough of it. Knowing that I didn't have to fuck him every time he ate me gave me the freedom to spread my legs any time I wanted an orgasm. Which was fairly often. It's not that I don't like sex with him, it's just I liked all the attention with out having to reciprocate. I was learning to be selfish. He was so gentle with the dildo in my ass. Combined with his licking and sucking my clit, I was getting addicted to the feeling of being penetrated anally while I climaxed.
For the first time I began thinking about being fucked there. I began to fantasize about two cocks inside of me. Even the thought of 3 cocks, although, I couldn't imagine how a girl could manage to concentrate on sucking a man while two others are ramming her between her legs. I had already been fucked by two cocks in my pussy. Or rather, earlier in our adventures, my husband was plunging a rubber cock up into me on the couch, when he suddenly slipped between my legs and popped his cock right inside with the dildo. We were both surprised that he was able to do it. It hurt me, but I could feel that it made him so hard. When he came, he said it was like a faucet was turned on instead of spurts. It was true, there was cum everywhere. I kind of liked it as I was learning to like large items in my cunt. By the time his cock had healed enough for sex, I was ready for him to fuck my ass.
Let me tell you about the ring. It's like an electric shock. I loved it. As soon as he pushed into me I began to cum. I was a little concerned about the ring in my ass and sure enough, the first time it hurt going in, but only for a second. I could feel the ring as it moved in and out of my anus. He had to use Anal-Ease on me because his cock was so thick. It was a special treat and started me thinking about another cock. I let him begin to double penetrate me with my dildo. I thought that was great, I thought that solved the problem of another man. I didn't have to worry about it though, because about that time we broke apart and got a divorce. He didn't get to realize his fantasies with me while we were married. But later… In the short time we were married, I had begun to think differently about sex.
After we separated things changed a bit. Men I dated were more my own age and not as sexually adventurous as my older husband. I was afraid to assert myself with these men as I thought I might scare them off or cause them to think of me a slut (which, more and more, I was wanting to be). After awhile, my husband drifted back into my life on and off. Mainly, because there was no one that could compare for sex. You have to know my husband was and still is, in his forties. He doesn't get those rock hard erections as often as he used to when I first met him. But when he is turned on and fucking me, sometimes he can cum in me, stay hard and cum again! I've yet to meet a man I turned on enough to cum in me twice in one sex session.
Last fall, my ex began exchanging email with a woman interested in bondage and slave sex. It's very hard to qualify people on the Internet. There are so many liars and posers that you can never tell. Somehow they connected and after a series of letters and so on, the woman wanted a meeting. She was a 25-year-old college student. She sent pictures of her self and was very critical of her body. She had never had an orgasm and her ex-husband, she later realized, had an abnormally small penis, around 4 inches or so. She was about 30 pounds overweight, but had enormous breasts. And one breast was considerably larger than the other one. She was very sensitive about their size and even talked about wanting reduction surgery someday when she could afford it. However, she was an attractive woman and would be very desirable when she loses her extra weight.
My ex-husband maintains a web site for his business and has a picture of himself on it. I guess this helped the woman decide he was who he said he was. She was very specific on what she wanted sexually, but was unsure how to proceed. She wanted to know how they would meet. Should they get to know one another, should they meet in a neutral place and so on? In the end, I guess she had learned to trust him enough that she agreed to come directly to his apartment. Since she lived 6 hours away, she came the day before and stayed at a friends place an hour away. She called that evening and said she would be at his place about 8:30 in the morning.
Are you wondering where I fit into all this? I was there in his apartment, hidden with a video camera and witnessed everything! My ex had told me about this girl. He was intrigued, but didn't really have a clue on how to be a dominant. I mean he's always been dominant, but not the way of chains and ropes and the like. Eventually, he sorted it out and came up with a plan. He asked if I would be interested in participating. He didn't know what would happen, but thought, at least, I would be there and there was always the possibility that I could be involved. It didn't turn out that way, I could have been, but I was too inhibited.
When she was tied and blindfolded, I could have licked her pussy and she would have never known. I wish I had now. I know now that she would have welcomed it in her position. She needed to be forced to do what she really wanted to do anyway. The things she wanted, she would never pursue. She needed someone to immobilize her, take it out of her hands, and give her the freedom of indecision. She wanted to be fucked by two or, even, three men or even women. The only way she could do it is if she were forced into it by submission. It's like booze, when I get buzzed, I can do things and blame it on the liquor. It helps me justify my desires.
We didn't know how far we could go with her that day. First of all, she didn't know about me and never found out. Since it was a one-time thing, my ex never got to find out what he could do with her and how far he could take this type of sex thing. It wasn't till a long time after that he realized how he could have used this woman and all the potential things that could have come from it. I spent the night with him before she came. There was no trace of me in his apartment that morning.
He was still debating on how to receive her when she knocked on the door at 8:30 AM. Since I was hiding in the bedroom closet, I will have to relate what my ex did in the first 10 minutes of their meeting. He answered the door, they looked at each other and he invited her inside. He immediately kissed her and feeling her respond, took command and stripped her naked right on the spot. She let him do it.
In telling me later, he knew right away what she wanted and he gave it to her. She wanted to be humiliated. She wanted to be made to become a slut. He sat down and made her stand in front of him. He told her to turn around; he wanted to see her body. He made her spread herself for him. He fondled her tits, put his hands between her legs and told her he was going to shave her pussy right away. He said her pussy was dripping. He inserted his finger in her asshole. He wanted to find out what her limits were.
He had found out about code words and explained to her how to respond to him. He used colors. Green meant more. Yellow meant just that and no more. Red meant that it was hurting and not fun anymore. Blue meant it was over. He told her if she said the word "blue", he would immediately stop what he was doing and she would have to leave immediately. He took his cock out and made her suck it.
At this point, he blindfolded her. Using one of his silk ties, he place cotton balls over her eyes and tied the tie around her head. There was no way for her to see. He bound her hands behind her back and left her kneeling on the living room floor while he came to get me. Very quietly, with Frank Sinatra playing in the background, I came into the living room with the video camera.
As I began taping her, he stuck his cock back into her mouth. This was very new to me and very exciting. Watching a woman suck my ex's cock was extremely erotic. Taping her was even more exciting, because she told him at the beginning, no pictures. She couldn't hear the camera and was never aware that everything that day was taped.